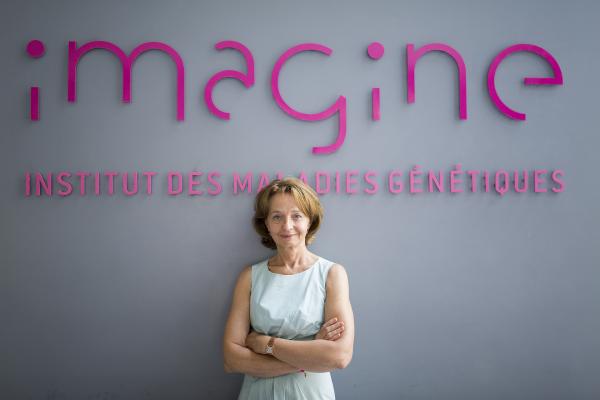 In a press release published on November 15, the French National Authority for Health (HAS) recommends the generalization of screening for sickle cell disease to all newborns. This new recommendation follows new epidemiological data and the mobilization of experts who, for several years, have been calling for the implementation of systematic screening in France, in the same way as for trisomy. Marina Cavazzana, a pediatrician, Professor of Hematology, Director of the Department of Biotherapy at the Necker-Enfants Malades Hospital, and Director of the Inserm / Assistance Publique – Hôpitaux de Paris Clinical Investigation Center for Biotherapy (CIC-BT) at the Imagine Institute, is one of the scientific personalities who helped bring about this change of course. Interview.
Why is sickle cell screening a major public health issue?
Marina Cavazzana : Sickle cell disease is one of the most common genetic diseases in France. Due to a significant mixing of populations, more and more babies are born each year with this disease, with 557 cases detected in 2020 compared to 412 in 2010.
In this context, birth screening, which is 100% reliable, is very important because it allows the implementation of preventive measures, particularly anti-infectious measures, from the first weeks of life, with regard to potentially fatal acute complications at this age.
Until now, what was the screening policy for sickle cell disease?
MC : As early as 1985, neonatal screening for this disease was systematically implemented in the overseas departments and regions, where the population is most at risk. Since 1995, it has been extended to metropolitan France, but on targeted populations considered to be at higher risk, such as the West Indian, African and Mediterranean populations.
What does this new HAS recommendation mean to you?
MC : This is really a very important step forward for patients! With all the experts of this devastating disease, we have been advocating for several years for the generalization of screening for sickle cell disease to the entire French population. This is already the case in other countries such as the United States, the United Kingdom, Belgium, etc. In close collaboration with the Parisian Federation for the screening, prevention of disability in children (AFDPHE), under the aegis of the National Health Insurance Fund for workers and employees (CNAMTS), we had published a study in 2018 that demonstrated all the interest of this approach. Between February 15 and May 21, 2017, we had implemented systematic screening for sickle cell disease in all newborns in the Île-de-France region, within 72 hours after delivery. In total, 48,143 babies were tested, 65% of whom belonged to the at-risk population usually targeted by screening and 35% of whom belonged to the non-targeted population. As a result, 61 children with major sickle cell disease were screened in the targeted population and 5 in the non-targeted population. Without widespread screening, these 5 children would have completely missed the radar and would not have had access to the best care.
How can we explain the imperfections of targeted screening as it is practiced today?
MC : There are several reasons for the lack of precision in targeting. First, the mixed population makes it difficult to identify at-risk individuals. Second, parents who are asked about their geographical origins do not always give clear and interpretable answers. A study conducted in the United Kingdom showed that 20% of the answers were missing or incorrect. Finally, it is difficult in the field, with the workload of the nursing staff, to collect all this information. The latest recommendation of the HAS is therefore a real victory for public health. It guarantees that no more children will be left by the wayside and that each child will receive appropriate care.
Sources